Event details
Clean with Passion for Now


FICHA TÉCNICA SERIE
Título inglés: Clean with Passion for Now
Título original:  일단 뜨겁게 청소하라 / Ildan Tteugeopge Cheongsohara
Año de producción: 2018
Temporadas: 1 
Capítulos: 16 
Género: Drama | Romance 
Argumento: Gil Oh-so, una empleada de una empresa de limpieza, se encuentra con Jang Seon-gyul, el jefe de la empresa. Los dos son diametralmente opuestos cuando se trata de limpieza. Con la ayuda de Oh-sol, Seon-gyul se enfrenta a su misofobia y se enamora de ella.
Reparto: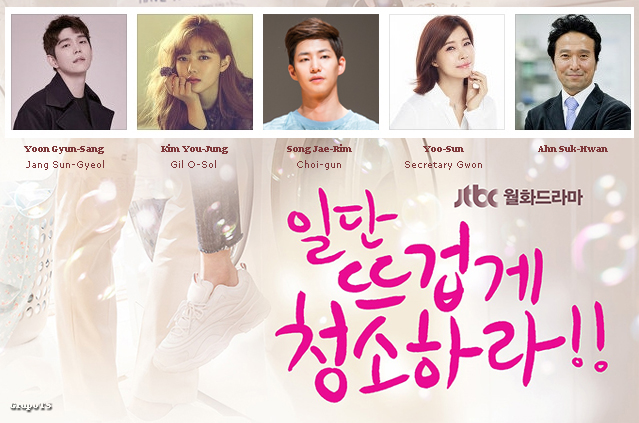 Director: No Jong-chan      
Guión: Han Hee-jung (Aaengo, cómic original) 
Productora: Han Hee-jung / The Collective
Nacionalidad: 
 Corea del Sur 
Web oficial: 
Rating: 
0,0

0,0
 No recomendado para menores de 12 años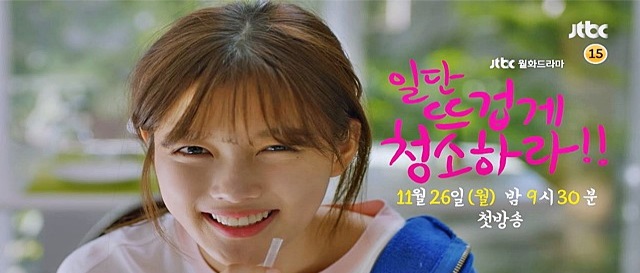 Argumento extendido
Jang Sun Kyul (Yoon Kyun Sang), es el propietario de una gran compañía de limpieza, y argumenta que es su vocación de por vida. Si bien parece increíblemente perfecto con su buena apariencia y riqueza, sufre de severa misofobia hasta el punto de que no solo se niega a tocar a otras personas, sino que tampoco puede soportar una sola mota de polvo en su entorno. Su vida se pone patas arriba con la aparición de Gil Oh Sol (Kim Yoo Jung), alguien que ha renunciado a la limpieza frente a su dura realidad. Esta basado en un webtoon que se ha vuelto popular desde 2013.